Over A Decade Strong
Taking influence from Europe's music festival circuit, Armstrong MetalFest is a heavy metal celebration that encourages metal heads from across Canada and the globe to mosh and camp with the backdrop of the great outdoors of British Columbia's Okanagan Valley.
What started as a backyard party in 2009 with nothing but eleven local metal bands, such as Terrifier, Xul, and Odinfist, to name a few, has grown into a huge success admired by the Western Canadian Metal scene.
Previous years of the festival have seen lineups with Cattle Decapitation, Suffocation, Beyond Creation, Dayglo Abortions, Rivers of Nihil, The Zenith Passage, Anciients, Bison BC, Striker, Crimson Shadows, Holy Grail, Archspire, Cryptopsy, Unleash The Archers, Divinity, Into Eternity, Ninjaspy, Vesperia, XUL, Odinfist, Death Toll Rising, Gomorrah among many others.
I am very proud of the work our team has put into this year of Armstrong MetalFest. Our work is paying off, so far this year we have broken every record for ticket sales we have ever had. As a community we built this festival from the ground up. As the festival grows, so does our community. We are all proud of this big beautiful beast!

Jesse Valstar (Festival Co-founder)
Previous Years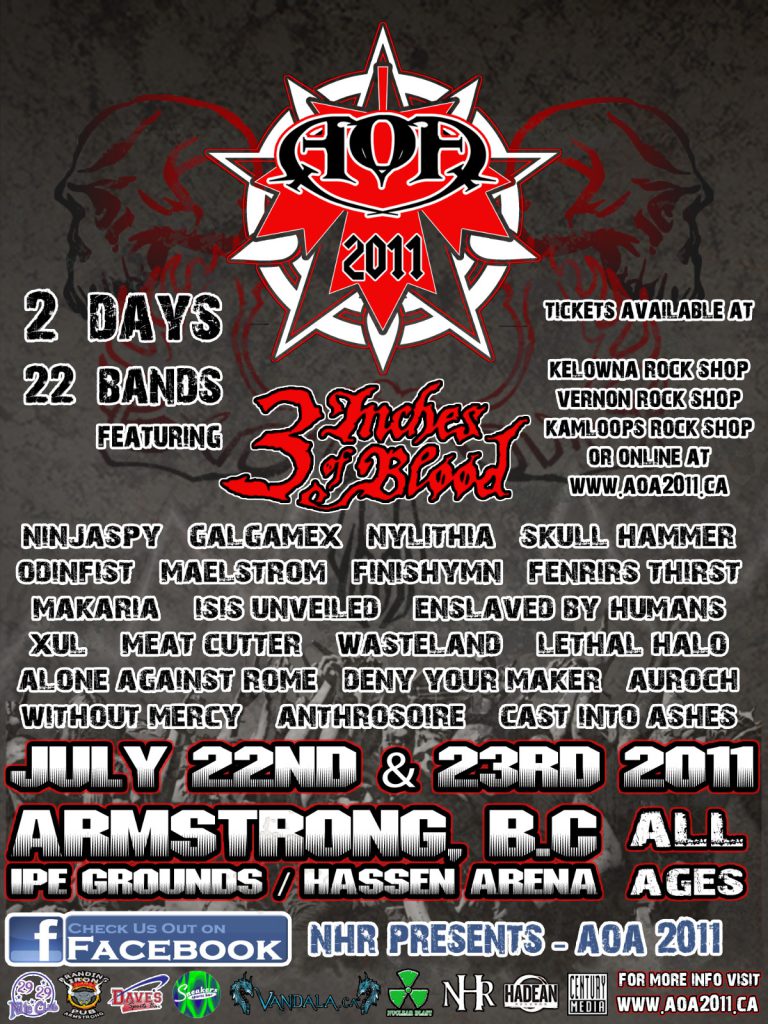 Location
Armstrong MetalFest is held in Armstrong, British Columbia — at the head of the Okanagan Valley. Basically, half way between Vancouver and Calgary; use the map below for directions!
Western Canadian Metal Festival Alliance (WCMFA)
Eight metal music festivals of all shapes and sizes banded together. World domination through cooperation!